Upcoming Mobile Clinic Events
$599
Without insurance
Select an available date at one of our upcoming mobile clinic events. For more options, we offer more flexible, in-office appointments that you can schedule here .
What Is It?
This is the first Mobile Vasectomy Clinic in the United States. The first itinerant reproductive health clinic on wheels is right here in Iowa. This novel idea has been launched in partnership with World Vasectomy Day (WVD) to promote vasectomies on the road.
This is a medicalized vehicle that allows Dr. G to complete fast, effective, and stress-free vasectomies in a proper medical environment while traveling anywhere throughout the state. It has been equipped with what any medical office requires for the performance of simple office medical procedures.
SimpleVas®/WVD Mobile Vasectomy Clinic is a completely autonomous medical vehicle, with generators and clean water available.
Why?
Working with World Vasectomy Day (WVD), providing free vasectomies and training surgeons around the world; has rendered very interesting and practical learning experiences. One of those experiences has been the use and application of medical vehicles for the provision of reproductive services to reach distant communities, and promote such services.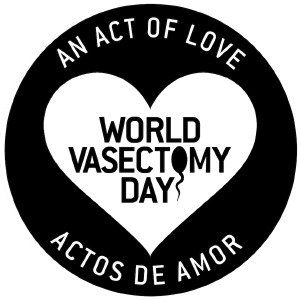 During the World Vasectomy Day global event, celebrated in Mexico City in 2017; Dr. G had the opportunity to perform vasectomies in the mobile medical units from the Secretary of Health of Mexico while at a massive event at the Monumento de la Revolución. During this event, more than 130 vasectomies were completed in one day.
Such experience, working in the mobile units, sparked Dr. G's interest in replicating the model locally. The purpose in Iowa with the mobile clinic, unlike Mexico where they're used to reach distant communities, is to increase the visibility of vasectomies; while increasing awareness of the need for more active MALE participation in reproductive decisions. Vasectomies should be discussed in the open.
Where?
Select communities will receive mobile vasectomy services in Iowa. Partnerships in those communities have been developed by SimpleVas® and World Vasectomy Day (WVD) to be disruptive, and challenge the misconception that openly talking about MALE participation is not natural or common.
When?
Mobile Vasectomy Services will be available at the locations indicated above EVERY MONTH.
Reviews
Here is just a sample of our satisfied patients. If you think your experience can encourage other men, please consider leaving a review.
Leave a Review
It was quick and easy. Dr. G took the time to answer all my questions. In fact, he spent more time answering my questions than the actual procedure took. If you have been thinking about it call Dr. G and get the facts you need to make an informed decision.
Steve S.
I have to say that from start to finish of the whole process Dr. G was professional, provided personal attention, and eased all the questions I had. He was very accommodating and informative and made me feel comfortable and in good hands. He and the actual facility blew me away. All things immaculate and proper. Couldn't have asked for a better experience! I especially appreciated his demonstration of a couple of the tools, as I had an interest in them prior. Also his "bedside manner" put me to ease and relaxed me. Which is saying a lot given what was occurring. I highly recommend his practice for anyone in the market. The process was clear, well thought-out, and you can tell his heart is in his business with how everything is presented- from initial supplies shipment to after procedure care.
Tressel L.
Dr G. made me feel comfortable through out the procedure. He has a great bedside manor. He answered all my questions. The procedure was not painful at all and Dr. G makes sure that his patients have little to no discomfort at all. I would highly recommend Dr. G to anyone looking to get a vasectomy.
Andrew M.
Dr. G is incredibly good at what he does - not only regarding the procedure, but the way he talks with the customer before, during, and after the procedure to make sure they are comfortable. I was pretty nervous going in, but he managed to make the experience quick, easy, and painless. He's the kind of guy you'd want to get a beer with. Highly recommend giving Dr. G a call if you are remotely interested in getting a vasectomy. It took 10 minutes and I didn't feel a thing.
Shane W.
Dr. Guarin was incredibly professional, and answered all of my questions in depth before the procedure. Everything from scheduling all the way through to the post procedure follow up was simple. Pain was minimal, and I can't recommend the procedure enough. Get snipped.
Timothy S.
Scheduling was very easy and the website provided all the information that i needed to make my decision. The procedure was quick and Dr. Guarin is skilled and very personable. Along with being nearly pain free post procedure, this the best option for men who are considering a vasectomy.
Shawn B.
Wow I'm literally amazed! Dr Guarin is absolutely spot on with this procedure. 36 hours after this procedure and I'm still pain free. Dr Guarin's professionalism and expertise in truly astounding. I'm still questioning why anyone would still have a traditional vasectomy (needle and scalpel)!? Thanks again Dr Guarin!
Adam H.
I was very concerned about having the procedure. The doctor himself called me to discuss my questions. The surgery was simple and quick. I had no issues. Highly recommended.
Juan A.
Dr. G was kind, professional, and reassuring at every step. The arrangements, procedure, and recovery were easy and virtually painless. The cost is totally reasonable. Esgar is a vasectomist activist around the world, and I'm so pleased with my decision and the experience that I tell people about it every chance I get. I almost wish I could do it again! Almost.
Eric K.